E. J. Josey, Professor Emeritus
University of Pittsburgh
School of Information Sciences
Department of Library and Information Science
Professional Background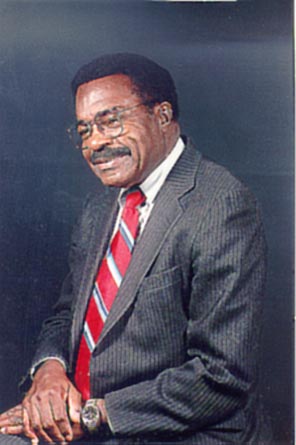 E. J. Josey is Professor Emeritus, Department of Library and Information Science, School of Library and Information Sciences, University of Pittsburgh. Prior to his Pitt appointment, he had been with the New York State Education Department since 1966, in its Division of Library Development, when he was first appointed Associate in the Bureau of Academic and Research Libraries. and he was promoted to Chief, Bureau of Academic and Research Libraries in 1968, and held that position until 1976 when he was appointed Chief, Bureau of Specialist Library Services, New York State Library Prior to coming to New York State, he served as Director of two college libraries. From 1955 to 1959, he was Director of the Library of Delaware State College, Dover, Delaware, and from 1959-1966, he was Chief Librarian and Associate Professor at Savannah State University in Savannah, Georgia. He also served on the staff of Columbia University Library, Free Library of Philadelphia, the New York Public Library, and prior to his position at Delaware State College, he served as Instructor of Social Sciences and History from 1954-1955 at Savannah State University.
Memberships
Active in the field of human rights, he is a life member of the National Association for the Advancement of Colored People (NAACP), and served as President of Albany, New York Branch from 1982-86. He also served as President of the Albany Branch of the Association for the Study of Afro-American Life and History. Active in community affairs, he has also served as a member of the Board of Directors of the Albany County Opportunity, Inc., the local anti-poverty agency for four years.
A member of the American Library Association for more than 40 years, at the 1964 annual conference, he authored the resolution forbidding Association officers to participate in state associations that deny membership to black librarians. This action led to the integration of the library association of several Southern states, and he became the first black librarian to be accepted as a member of the Georgia Library Association. He has been a member of the Council, the legislative body of the Association since 1970.
From 1980-82, he served as Chair of the Cultural Minorities Task Force of the National Commission on Libraries and Information Science. He served as President of ALA in 1984-85.
In the spring of 1987, he was elected to a 4-year term on the Board of Directors of the Freedom to Read Foundation and chaired the ALA International Relations Committee from 1987 to 1990. From 1990 to 1994 he served as the Chair of the ALA Legislation Committee. He returned to chair the ALA International Relations Committee for the next two years. In May and June, 1987, Professor Josey lectured in three African countries, Ethiopia, Zimbabwe, and Zambia under the auspices of the United States Information Agency.
Awards
The recipient of many awards, the American Library Association History Round Table presented him with its Journal of Library History Award for research on Edward Christopher Williams, the first African American to graduate from library school in 1900.
Under his leadership, the Savannah State University Library received the 1962 and 1964 John Cotton Dana Award.
In 1967, he returned to Savannah State University to be honored with the Savannah State University Award.
In 1980, he received the American Library Association's most coveted award, the Joseph W. Lippincott Award. The citation of the award read in part:
"his fervent advocacy was a major factor in eradicating racial discrimination from many library facilities and services, and from a number of professional associations. As founder of the Black Caucus in ALA, and as its leader throughout the group's formative years, he gave a new strength, unity, purpose and hope to many minority members of our profession."
He has received a number of awards from the NAACP. In 1965, he received the NAACP National Office Award for Work with Youth. In 1966, he received the Georgia NAACP Conference Award. In 1983 and in 1986, he was honored bv an award from the Albany Board of the NAACP.
On May 1, 1981, he received the first annual Award for Distinguished Service in Librarianship from the School of Library and Information Science, State University of New York at Albany.
In 1984, he received the following awards: Martin Luther King, Jr. Award for Distinguished Community Leadership, SUNY, Albany; District of Columbia Association of School Librarians Award for Contributions to Librarianship; Award from the New Jersey Black Librarians Network; African Library Award from the Kenya Library Association; Award for Contribution to International Librarianship from the Afro-Caribbean Library Association, England.
In 1985, for his contribution to the Profession and his leadership as ALA President, a Capital Tribute was presented in Washington, D.C., by Congressman Major Owens and the Congressional Black Caucus Brain Trust; New York State Legislative Resolution; Ohio House of Representatives Resolution; and a U.S. Congressional Resolution.
In 1986 he received the New York Library Association Award for significant contributions to special populations in New York State.
In 1991, the American Library Association bestowed upon him its ALA Equality Award.
In 1996, the American Library Association honored him at its 50th Anniversary of the ALA Washington Office for his contribution to the Legislative Program. The Pennsylvania Library Association honored him with its Distinguished Service Award.
In 1998, Forest Press and OCLC bestowed upon him the John Ames Humphrey Award, "in recognition of significant contributions to international librarianship."
Scholarships
The Black Caucus of the American Library Association established its first independent scholarship fund in his honor. The E. J. Josey Scholarship Award is given annually to African American citizen of the United States or Canada pursuing a degree in an ALA accredited Library and Information Science program in the USA or Canada.
Upon his retirement from the University of Pittsburgh's School of Information Science in 1995, he was named Professor Emeritus and a scholarship was named in his behalf: E. J. Josey Endowment Scholarship for Minorities. This scholarship is awarded annually to an enrolled African American graduate student in the Department of Library & Information Science who demonstrates potential for academic excellence and leadership in the profession.
Publications
The author of more than 300 articles in library, educational, and history journals, he has also authored and edited twelve books in the field of library science which include:
1. The Black Librarian in America, Scarecrow Press, 1970.
This was the first book published which dealt exclusively with issues related to Black librarians in the United States.
2. What Black Librarians are Saying, Scarecrow Press, 1972.
3. New Dimension for Academic Library Service,Scarecrow Press, 1975.
4. A Century of Service: Librarianship in the United States and Canada, co-editor with Sidney Jackson and Elinor Herling, ALA, 1976.
5. Opportunites for Minorities in Librarianship,co-editor with Kenneth Peeples, Jr.
6. Handbook of Black Librarianship, co-editor with Ann Allen Shockley, Fisk University Library, Libraries Unlimited, 1977.
7. The Information Society:Issues and Answers, Oryx Press, 1978.
8. Libraries in the Political Process, Oryx Press, 1978.
9. In May of 1983, Ethnic Collections, with Dr. Marva DeLoach, was published by Neal-Schuman Press.
10. In the Fall of 1987, his Libraries, Coalitions and the Public Good was published by Neal-Schuman Press.
11. Politics and the Support of Libraries with Dr. Kenneth Shearer was published in November, 1990.
12. The Black Librarian in America Revisited was published by Scarecrow Press in January 1994.
He served as Editor of The Bookmark from 1976-86. In the fall of 1986 he relinquished the editorship of The Bookmark and served as its co-editor for the next five years.
Honors and Degrees
He holds earned degrees from Howard University, Columbia University, and the State University of New York at Albany.
In 1973, Shaw University conferred on him an Honorary Degree of Doctor of Human Letters, (D.H.L.). The University of Wisconsin-Milwaukee conferred the Doctor of Public Services (D.P.L.) Honoris Causa on May 16, 1987, North Carolina Central University honored him with the Doctor of Humanities, Honoris Causa on September 29, 1989, and Clark Atlanta University bestowed upon him the Doctor of Letters Degree (D.Litt.) on May 22, 1995.
In September, 1992 a festschrift, E. J. Josey: An Activist Librarian, Scarecrow Press, edited by Ismail Abdullahi, was published in his honor.
Courses at the University of Pittsburgh
Dr. Josey's areas of research and interests include collection development; international and comparative librarianship; academic library management; information systems and library networks; intellectual freedom and censorship; state library services; outreach and communication programs; library service to the aging; library service to African Americans, and education of librarians for multicultural services.
He has taught a number of courses in the Department of Library and Information Sciences, University of Pittsburgh including:
LS 2001 Librarianship and Libraries in Society
Librarianship as a profession and the development of professional attitudes. The understanding of management and its theories and the impact of professionalism and the structure, function and management of libraries of all types. The political, economic, and social environments in which libraries operate.
LIS 2700 Management of Libraries and Information Systems and Services
Overview of management theories and principles and their application in library and information systems and services. Managerial decisions and functions in relation to structure, policy, personnel, and budget.
LIS 2033 Library Services to Special Populations-The Aging
A study of the information needs of the aging population. Accessing information needs; planning for library services in cooperation with other community agencies; developing strategies for the promotion of library and information programs for the aging population.
LIS 2771 Academic Library Management
Planning, organizing, staffing, managing, budgeting and evaluation university, college and research libraries with emphasis on a library's service to its supporting institution.
LIS 3039 Seminar- Politics and Libraries
LIS 2901 Individual Research One (1)
LIS 2902 Individual Research Two (2)
LS 3079 Seminar in World Librarianship
LS 3019 Seminar in Professional Issues
Excerpt from His Writings
"The information industry has the technology to control information, but its price tag on information distribution and its profit goal create a bias in what information is made available and how it is dispensed. Only the nonprofit organization, the library, dedicated to a total community service goal with trained experts, librarians, running the operation can provide the full scope of information for the total population in a fair and objective manner."
— E. J. Josey
In the early 1960s, E. J. Josey was on the front lines of the civil rights movement. He helped desegregate shops in Savannah, Georgia, and later led a successful struggle that eventually resulted in the integration of Southern libraries.
Now, more than 40 years later, the professor emeritus in the School of Information Sciences at the University of Pittsburgh continues to act out of a commitment to civil rights, professional integration, and higher education.
Dr. Josey is benefactor, mentor, and role model to students. Author of 12 books and 300 articles, he has been the president of the American Library Association (ALA) and founded its Black Caucus. One of the feats he said he is proudest of occurred in 1964 when he urged the ALA to not recognize four southern state library associations that denied memberships to African-Americans. As president of the ALA, he established the Pay Equity Commission, which ensured equal compensation for male and female librarians.
An outspoken advocate for the eradication of racial bias from library systems and professional organizations, Josey said there is a dire need for more people of color to enter the profession of library science. If they do not, our multicultural society will not have enough librarians of color to serve groups which are becoming the majority in America. Currently, Josey is part of a team that is drafting the Library Service and Technology Act. This piece of legislation mandates installation of new technology in libraries, thereby enabling more individuals to ride the information super-highway.
Dr. Josey's lengthy list of awards includes four honorary degrees noted above and a resolution from the US Congress recognizing his achievements. He is also the recipient of the ALA Equality Award and the Martin Luther King, Jr. Award for Distinguished Community Leadership. In 1996, E. J. Josey's name was included on the American Library Association's 50th Anniversary Honor Roll in recognition of his fund-raising and lobbying efforts on behalf of the nation's 116,000-plus libraries. In 1999, at the ALA Midwinter Meeting, Dr. Josey was honored for his contribution to Intellectual Freedom on the occasion of the Celebration of the 30th anniversary of The Office of Intellectual Freedom.